METAL FILTER CARTRIDGE
---
Sintered Fiber Metal
Stainless Steel Wire Cloth
Metal Filter Element(Sintered Fiber Metal & Stainless Steel Wire Cloth)는 Stainless Steel로 된 섬유 또는 천으로 된 Media를 사용하여 만든 제품이며, Media 유출이 없고, 내온성이 뛰어난 대유량형이다.
Special Features
• 미세한 혼입물의 최종적 제거가 요구되는 초청정장치

• 다른 류의 여재를 사용할 수 없는 부식성 유체

• 고온/고압 하에서의 유체나 기체처리

• 특정 유량을 얻기 위해 높은 차압을 필요로 하는 고점도 액체

• 투과성이 커서 다른 여재에 비해 압손이 적음

• Gel의 제거에 적합하고, 고점도액 처리가 가능함.

• 고체의 포착능력이 뛰어나 분미화결금속에 비해 몇배의 포착력이 있음.

• 내열성이 뛰어나 398'C(750'F)까지 사용가능

• 모든 Element는 Bubble Point Test에서 통과된 것임.
---
Ordering Information (Specifications)

---
Sintered Laminated Wire Cloth
여러 종류의 Wire Cloth(Twill Weaves, Dutch weaves, Dutch Twill Weaves)는 보호압과 여과압, 분배압, 지지압으로 나뉘며, 이들을 완전한 구조에 의해 겹친 다음 압축시켜 일체화된 다공질 금속형으로 구성된 제품이다. 높은 정밀도와 내구성, 내열성, 내식성, 내압성이 우수하며, 교환하지 않고 계속 사용할 수 있는 역세장치에 적합하다.
Pore Size(㎛): 1, 2, 5, 10, 20, 40, 75, 100, 150, 200, 500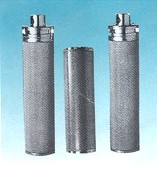 Cross Section of Five Layer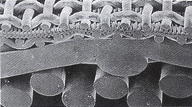 1st Layer  : Protective Wire Cloth (protect the basic wire cloth directly)

2nd Layer  : Basic Mesh Wire Cloth (a wire cloth of basic Filtering pores for Filtration)

3rd Layer  : Protective Wird Cloth (to protect the basic mesh wire cloth and impart an effect of diffluence on wire cloths of the 4th and 5th layers)

4th Layer, 5th Layer  : Dutch Woven Wire Cloth (to reinforce the rest oflayers so as not to require a punched medium)
---
Sintered Porous Metal
분말금속 소결필터로써 각종 기계요소의 핵심부품으로 기공율, 기공크기, 입자의 포집, Gas 및 유체의 투과율 등을 고려하였으며, Back Flushing, 고온, 고압 Line 등에 적용됨.
Pore Size(㎛): 0.2, 0.5, 2, 5, 10, 20, 40, 100, 150, 200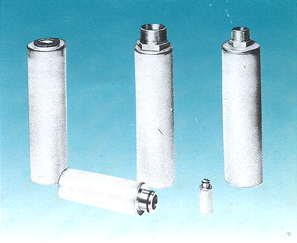 ---
Typical Applications
• Polymer Filtration

• Fuel Filtration-Air Crate-Marine

• Hydraulic Filtration –Machinery-Circuits

• Gas Filtration

• Protection Filter for Vacuum Pumps

• Process Pump

• Catalyst Recovery and Retention

• Different Filtration in the Chemical Industry

• Magnetic Tape Solution

• Condensate Water Filtration
---